Oscar Haas captured the history of New Braunfels and Comal County | Community Alert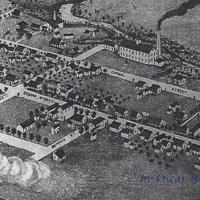 Oscar Haas was well known as a historian and archivist of New Braunfels and Comal County. He has documented one hundred years of our community's progress through 20 years of journal articles and a published book. Now in its fourth printing, The History of New Braunfels and Comal County, Texas 1844-1946, a book by Oscar Haas, has set the standard for historical documentation of German immigration. It's been the standard for generations of scholars, but there's nothing quite like hearing his voice as he tells his own story.
"I was born October 12, 1885, on land that now lies at the bottom of Canyon Lake…. We moved to Twin Sisters. My parents decided to move to New Braunfels so that their children could have more of an education than they would have had (in Twin Sisters). He attended New Braunfels Academy but dropped out in sixth grade. "I could get a job selling groceries and delivering groceries for $12 a month. It was a lot of money. They taught me to ride a bike and go out once a week and ride around town and take orders from the housewives and then come back to fill those orders and put them in baskets and then to harness a horse and deliver groceries in town."
He was a clerk at another general merchandise store for several years. "We had to have conversations in English and Spanish, and of course German. They wanted the employee to speak their language, otherwise they wouldn't buy from you. Haas opened its own store in the 1920s. "We dealt in ready-to-wear, men's, boys' and children's ready-to-wear, shoes and hats, headwear and clothing, by the yard and all kinds of trinkets. It was in the Richter Building. I had a partner, Walter Wiedner, so it was called Oscar Haas and Company. When the Depression hit, we lost. It was a loss, a loss, a loss, and in the end you lost it all, ja.
This loss prompted him to run for Treasurer of Comal County in the 1934 election. He served as Treasurer for 28 years, unopposed. It was then that the virus of history bit him. "Yes, I just got stung in 1934, and luckily men like Herman Seele, the first schoolteacher" were still around. "He was a tall, pleasant-faced man with a thick beard and always interested in greeting people as he walked down the street, especially children.
He always bent down to shake hands with the children.
"One day I was at Otto Rhode's – who was then the clerk of the Comal County office – I saw on the shelf where the first book of the Comal County Commissioners' Court of Proceedings lay. I asked Otto, may I watch it? Opening it I saw the recording of the very first session of the Comal County Commissioners Court in 1846. I found it so interesting that I forwarded it to the editors of the New Braunfels Zeitung, the German-language newspaper, and the New Braunfels Herald, the English-language newspaper, and they both told him that if he wrote weekly installments from the trial minutes, they would print it. It took about three years. "Once that was done, I went through the minutes of the first church in New Braunfels, which also took about three years. And then after that I went through the minutes of the city council All were in German and needed to be translated in English for publication in the New Braunfels Herald. In 1961, he and his wife wrote a 144-weekly history series, "Comal County in the Civil War," translated from German-language newspaper articles by Ferdinand Lindheimer of the 1860s.
Haas retired from his position as county treasurer in 1962 to devote time to compiling his extensive collection of historical records in the Definitive History of New Braunfels and Comal County, 1845-1946 first published in 1968. The knowledge and information acquired through all the years of going through official city, county, and church minutes was a terrific basis for his book. He did additional research on the translated writings of Carl, Prince of Solms-Braunfels, Dr. Ferdinand Roemer, and others to fill in the early parts of the New Braunfels story.
Other published works include Chronological History of the Singers of German Songs in Texas (1948), The First Protestant Church, Its History and Its People:1845-1855 (1955), and a translation of Captain Julius Giesecke's Civil War Diary of New Braunfels. He contributed several articles to the Handbook of Texas History and received numerous honors for his dedication to history. Not bad for a sixth grade dropout.
As I continued my research for this story, I looked for something different than what others had written about it. I looked for his voice. Among the treasures held by the Sophienburg Museum and Archive is a storehouse of oral histories, the 'Reflections Program', professionally recorded since 1976. Oscar Haas was number three. He was 90 at the time of recording. I took the recording out of the studio and played it for Don Cooper, the volunteer who faithfully cataloged the Oscar Haas collection for at least two years. It was bewitching. Don's face lit up when he heard the voice of the man who created boxes and boxes of notes written on scraps of paper and the backs of old ballots. I could hear the mischievous behavior and twinkle in the eyes of a man I only saw in pictures. His voice took me back to my childhood, when my grandparents and many store clerks spoke with a slight German accent and a "ja" on the end.
"Reflections" is still taped and aired Sundays at 9am on KGNB. Copies are available for purchase. Is your parent or grandparent recorded as speaking from New Braunfels? Wouldn't it be great if you could hear their voices again? We also want to record your stories of growing up and living in New Braunfels. Call us at Sophienburg at 830-629-1572
Sources: Sophienburg Museum and Archives; Texas Handbook Online