The History of Boho Chic and Why It's Back in 2022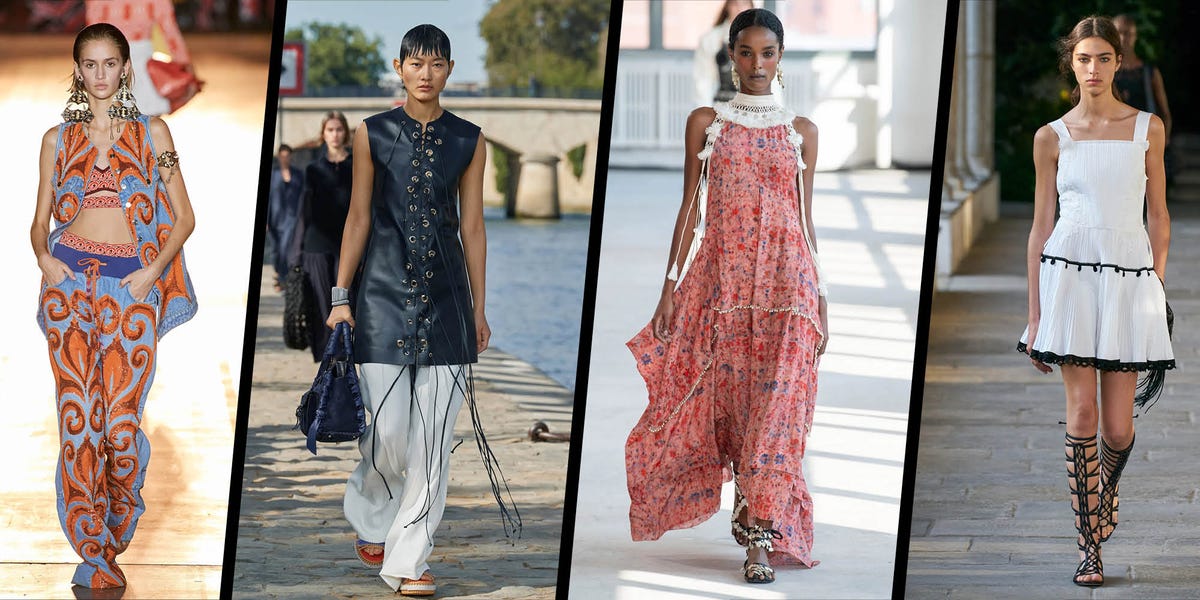 In sartorial terms, you could call 2022 the least original year yet. Y2K fashion is currently dominating, the fashion world's love affair with 90s minimalism continues and now Boho is also back like it never left. This is the year to borrow styles from yesteryear previously relegated to the dark recesses of fashion's past and you have to admit, it works.
With a history that spans over 200 years, the exact origin of the Boho aesthetic is difficult to pinpoint. Some believe that bohemian culture was founded as a counterculture in the late 18th century after the French Revolution. It was an era that saw the end of patronage, when the elite supported the arts privately and many creative people were pushed into poverty.
Others believe that the French word "Bohémien" was a derogatory term used to describe the Roma people, who at the time were thought to have come to France from Bohemia, an ancient medieval kingdom that today forms the largest historical region of the Czech Republic.
Either way, it was a term with only one meaning: to describe a section of society that lived an unconventional and often nomadic lifestyle, which was reflected in their aesthetic. Flowing, carefree fabrics often dominated with patterns and cuts inspired by historic clothing and European craftsmen from across the continent.
At the start of the 20th century, "Gypsy" changed from a pejorative term to one that even the wealthy chose to embrace. During the first two decades of the 20th century, French fashion designer Paul Poiret pioneered the use of draped fabrics and allowed women to move away from tight corsets to unstructured garments. He created iconic boho items like the boot skirt, harem pants, and "lampshade" tunic, which became hugely popular. The elite began to embrace a kind of "high Bohemian", wanting to be associated with a movement synonymous with individual and creative thinkers.
An ever-evolving aesthetic, the 21st century ushered in a new genre of boho dressing in the 1960s and 1970s. Merging with the hippie movement which championed similar ideas of championing self-expression and rejecting conventional ideals, Woodstock en 1969 was a watershed moment that was undoubtedly instrumental in redefining the aesthetic. Floral and airy dresses were present, but also flared silhouettes, embroidery, ponchos, loafers, balloon sleeves and fringes.
In the mid-2000s, when Sienna Miller and Kate Moss stepped out in era-defining outfits laden with bohemian influence, an official "festival" look was born. Arctic Monkeys and Razor Light were the soundtrack and rah-rah skirts, layered necklaces, studded belts and knee-high suede boots were the outfit of choice.
'Boho chic', credited in part to then-star stylist Rachel Zoe, was the hottest style and from 2004 to 2007 there wasn't an It-girl in town who didn't not dress with a bohemian burst. From Nicole Richie to Mischa Barton and the Olsen twins, their style was defined by layers, puffy fabrics, cropped jackets and a Chloé Paddington or Balenciaga City Bag.
Fast forward to 2022, and Boho has returned to the track with a vengeance. At the Spring 2022 runways, Alberta Ferretti presented tiered sundresses and gladiator sandals, and at Chloé the ready-to-wear collection included woven macrame clutches, kaftans, seashells and of the hook. At Altuzarra, Gigi Hadid appeared in head-to-toe tie-dye and at Etro the cardigans are back and the patterns are bigger than ever.
Given the past few years of lockdown, it's no surprise that a free-spirited, structure-escaping aesthetic reigns supreme. Couple that with the fact that vintage and sustainable clothing has never been more in demand, and that reworked and upcycled styles make a lot of sense.
Boho 4.0 still has all the hallmarks of the classic Boho outfit, but the 2022 version is whimsical yet clean. It's about adopting a mix of rich colors, patterns, textures and cuts while keeping the rest of an outfit simple.
A peasant shirt can be worn with straight jeans for a more polished daytime look. Instead of styling a tiered maxi dress with a hobo bag, a belt bag will provide a more modern touch, as a designer shoulder bag would.
Brands like Free People, Boteh, Isabel Marant, Maje and Stella McCartney have all drawn heavily on Boho this season and there are countless pieces to invest in now that will have legs in the wardrobe. However you choose to wear the style, remember to always accessorize with abandon, but leave that faux coin belt in 2004.